Phillips' Geneva Watch Auction XIII: The next hot trend?
After the last Phillips' Geneva Watch Auction XIII, it seems like we can confirm two trends that have been going on for a while. First, independent watchmakers are hotter than ever on the market, with F.P. Journe leading the group, and second, watch collectors (and investors) are dedicating a big part of their patrimonies to watches, an ever increasing asset.
We've covered the topic of the vintage watch as asset in portfolio-diversification in our article and now we'd focus more on the pure beauty of timepieces, discussing the rightfully earned prestige of independent watchmakers, the new hot trend of the horological market.
---
Starting strongly with two lots, F. P. Journe's presence in this auction began with two great successes: the lot 10, a modern LineSport, sold for over twice the median estimate of CHF 25.000, followed by an incredibly rare Octa Calendrier with an unique history, that closed for CHF 220.500, more than 3.5 times the median estimate of CHF 60.000.
The lot 12 is probably one of the most iconic watches to support our point on the appeal of F.P. Journe in today's market.
A modern classic, still in production from 2011, is practically unobtainable on the retail market: dealers are not accepting orders due to a (rumored) 27-years-long waiting list.
The Chronometre Bleu is a marvellous example of a watch that's destined to become immortal, and if there are people ready to wait 27 years to call one "their" at the retail price of around CHF 20.000, there surely are plenty ready to spend a significantly larger amount of money to have one now.
Estimated between CHF 20.000-40.000, the Chronometre Bleu quickly escalated over the esteem and closed at CHF 94.500. Over 3.5 times the median estimate for a watch still in production, now that's an indication of where the market is moving toward.
Immediately after, in the lot 13, we saw the magnificent complication mastered by F.P. Journe, who created the first-ever resonance wristwatch in history: the Chronometre A Resonance.
One of Journe's signature watches, a contemporary and future classic. Estimated between CHF 100.000-150.000, closed its deserved battle for CHF 277.500, 2.2 times the median estimate.
Another Chronometre A Resonance appeared on the lot 92, estimated at CHF 50.000-80.000, sold for just over 2.5 times the median estimate, for a price of CHF 163.000.
A third one appeared on the lot 141, sold for CHF 201.600, two times the estimate of CHF 80.000-120.00.
Just before, the lot 140 presented a wonderful Chronometre Souverain, supposedly the first one ever produced (n.001, and Journe is known to start its numeration from 1 instead of 0).
There's no wonder why this masterpiece is sought-after: the unparalleled elegance, the graceful and refined dial, the fascinating movement handmade by Journe.
Estimated between CHF 20.000-30.000, this historically-relevant example of an historically-relevant watch sold for CHF 163.000, well over 6.5 times the median estimate.
Other creations by F.P. Journe appeared on the stage of the auctions, practically all of them went well above the top estimate. All beautiful pieces that clever and tasteful collectors are intelligently acquiring before it's too late.
One of the most interesting watches by Journe, if not of all watches listed at this auction, was the lot 91. Apparently "anonymous", with its unsigned dial, this watch was among everyone's favorites.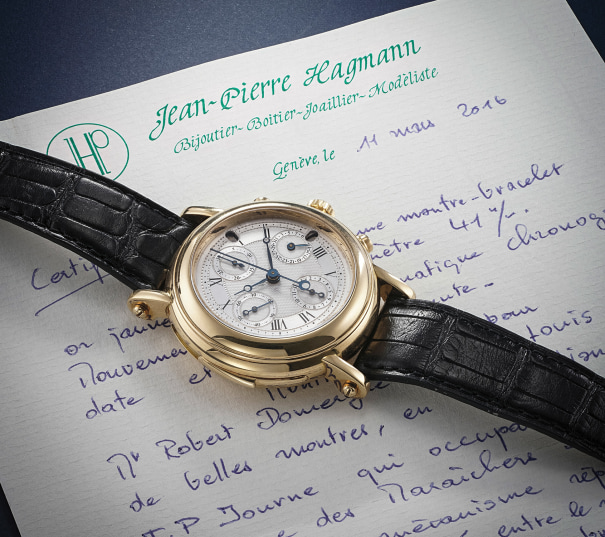 Manufactured on request in 1992, this watch is actually far from being anonymous, with two of the most important names collaborating for its creation. The exquisite movement, with chronograph, calendar and minute repeater, was created by F. P. Journe, while the case is from J. P. Hagmann, considered the best casemaker in history.
How not to remember when Patek Philippe created the most complicated watch ever, the Calibre 89. Their casemaker of choice? Mr. J. P. Hagmann, of course.
This piece-unique, masterfully executed by the best artisans of the last century, was presented with an original note signed by Hagmann himself.
Estimated between CHF 10.000 and 15.000, this collector's dream sold for a final price of CHF 163.000, over 13 times the median estimate.
---
Phillips' last auction has been a beautiful exhibition of many relevant pieces and, most important to the eyes of the wise collector and investor, that a trend is clearly emerging.
We think, at The Watch Boutique, that we've been able to identify this upcoming trend early, being able to supply our clients with some of the best examples of F.P. Journe's masterpieces over the last months, like a beautiful Chronometre Bleu and a Chronometre a Resonance.
At the writing of this article, we are proud to offer to our dear customers a beautiful example of Chronometre Souverain by F.P. Journe, just like the one that's been offered at Phillips, which you can find in "Our Collection" section.
Truthful to our vision, we always source the best examples on the market, as this last auction shown the ever growing importance of conditions.